'First Bites Bash' Kicks off Chicago Restaurant Week

The fifth annual Chicago Restaurant Week is right around the corner, running Feb. 17-26. More than 200 Chicago-area restaurants will participate by offering prix-fixe menus at $22, $33 and $44 (excluding drinks) during lunch and dinner.
To kick off this year's edition, the Chicago Convention and Tourism Bureau is hosting the "First Bites" bash, Thursday, February 2 from 6-9 p.m. at historic Union Station. Guests will enjoy bites from over 50 Chicagoland chefs, including our very own Federico Comacchio of Phil Stefani's 437 Rush, Luigi Garcia of Riva Crab House, and Victorio Padilla of Tuscany on Taylor. Guests can create their own food pairings with Moet Hennessy wines, Belvedere cocktails and Blue Moon beers. Groupon is sponsoring a dessert lounge for those with a sweet tooth.
Tickets are available online and 100 percent of net proceeds will benefit the Greater Chicago Food Depository.
Confirmed participating "First Bites" Restaurants: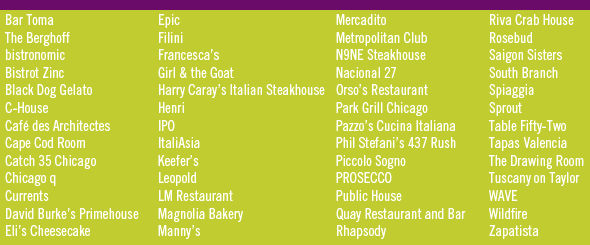 Admission Details:
Must be 21 years or older with valid photo identification to be admitted to the First Bites Bash.
Business or cocktail party attire is suggested.
Doors at Union Station will open (Jackson Street entrance only) at 6 pm. Transportation and parking recommendations will be provided to ticketholders via email prior to the event.