Join Us at the Memorial Day Weekend Party at Castaways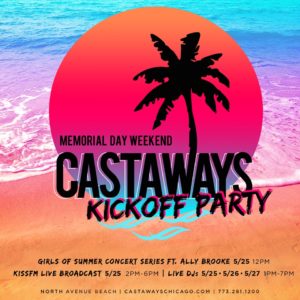 After a long winter, everyone's ready to hit the beach!
We are thrilled to announce that Chicago's famous North Avenue beachfront hotspot, Castaways Bar & Grill is now open for the season!
We'll be soaking up the sun and dipping our toes in the sand all Memorial Day weekend long with DJ's from 1035 KISS FM with a special live performance by pop superstar Ally Brooke on Saturday, May 25th starting at 12 PM, no ticket purchase is required.
Join us at Castaways for great food, drinks, music, and great weather. Indulge yourself with our grill or drink menu to prepare you for those long summer days lounging on the lakefront with your friends.
Host your summer party, or make it a day at the beach with a Castaways private party or cabana rental. You can plan your summer party around great entertainment options from live bands, DJ's, radio broadcasts by KISS-FM to prime viewing for the Chicago Air and Water show set for August 17-18, 2019.
Join us all summer long at Castaways on North Avenue Beach, and let's celebrate summertime in Chicago.