Riva Celebrates Pride Month!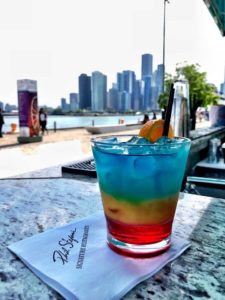 Happy Pride Month! Riva Crabhouse is celebrating with a special cocktail for a limited time! Riva has introduced the Rainbow cocktail for everyone to enjoy, and even better we will donate $1 of every cocktail purchase will be donated to Chicagoland area LGBTQIA charities.
This tasty $10 Rainbow cocktail is a great way to celebrate Pride Month and summer. Enjoy this festive and delicious cocktail with a stunning lake view. Bring your friends to enjoy our seafood menu and this special drink, available for a limited time.
The Navy Pier Pride Fest is on Saturday, June 29th at 10:00 AM, with FREE family-friendly Pride activities. You can find out more information about the pre-parade activities here. The 50th annual Pride parade will follow on Sunday, June 30th at 12:00 PM. Find out more information on the parade here.