Celebrate Thanksgiving with Tuscany Wheeling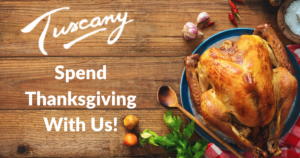 Thanksgiving at Tuscany Wheeling is our favorite time of the year! We enjoy serving our customers with the best holiday meal in the suburbs. Whether you're dining out with family or you're hosting your family at your house, let Tuscany Wheeling provide your meal.
Tuscany Wheeling Offers Turkeys To Go
Chef Bolla, Executive Chef of Tuscany Wheeling is preparing a traditional Thanksgiving dinner for your family to enjoy. You can take a turkey to go, either pick a 15 or 20 lb turkey, included with the following sides of stuffing, cranberry relish, green bean casserole, and your choice of sweet or mashed potatoes, and a pumpkin pie. Extra sides are available for purchase, for $25 each
Our 15lb turkeys, serve anywhere from 10-13 people. For the entire Thanksgiving spread, it is $175, and for the turkey alone it is $90.
Our 20lb turkeys, serve anywhere from 17 to 20 people. For the entire holiday spread, it is $225, and for just the turkey it is $140.
To place your order today, call 847-465-9988. We ask that you place your order before 9 PM on Sunday, November 24th, and you can pick up your holiday meal on Thursday, November 28th between 10-3:30 PM.
Dine-in with Tuscany Wheeling for Thanksgiving
Let Tuscany Wheeling host your family for Thanksgiving! With our traditional feast, you can bring your entire family to enjoy a delicious holiday spread.
Starting at 12 PM until 8 PM, we'll be serving plated Thanksgiving turkey dinners along with our full dinner menu. Adults can enjoy their holiday meal for $34.95 and children under the age of 10 can eat for $17.95. We do have a special deal for adults who order their meal and eat before 3 PM, they can enjoy their holiday meal for $29.95.
Make your reservation with us today, and celebrate the start of the holiday season at Tuscany Wheeling.
Tuscany Wheeling
550 S. Milwaukee Ave.
Wheeling, IL 60090
847.465.9988